The Polish startup ecosystem has experienced impressive growth in the last few years. In 2020, with over 300 startups supported by a total of 158 funds, the market has reached the level close to €500M, marking a 70% increase over the previous record-breaking year of 2019.
The level of funding has grown 10x compared to 2018 and earlier years, when funding figures haven't exceeded the €50M mark. This impressive phenomenon is not only driven by local and state-supported funds, but also by private investors who contributed 38% of the total investment value for 2020, and by the international funds that constituted 48% of capital deployed into Polish startups. Moreover, excluding the recent megarounds (Docplanner, Booksy, Brainly, ICEYE), the investment volume has grown 8x compared to 2018!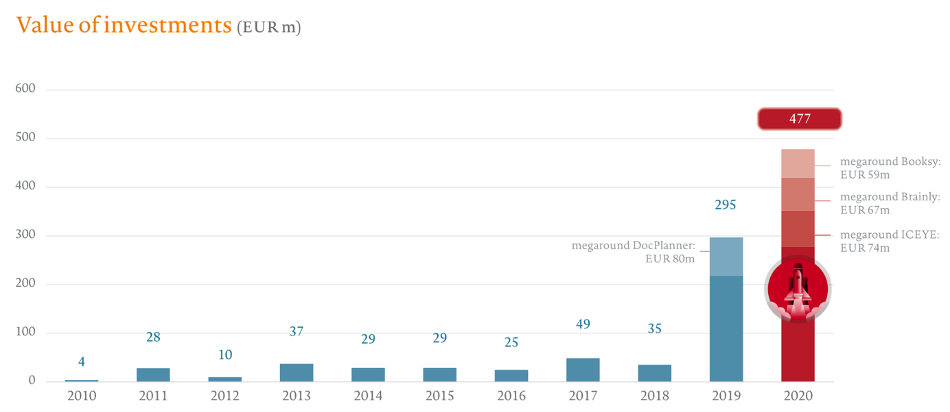 Source: PFR Ventures & Inovo
Poland, as well as the entire CEE region, is famous for its abundant supply of high-quality technical talent. Polish software developers, engineers and data scientists top the global rankings in their respective fields (see an example below). This has been already noticed by global tech giants – Google, Amazon and Microsoft have already opened large R&D centres here!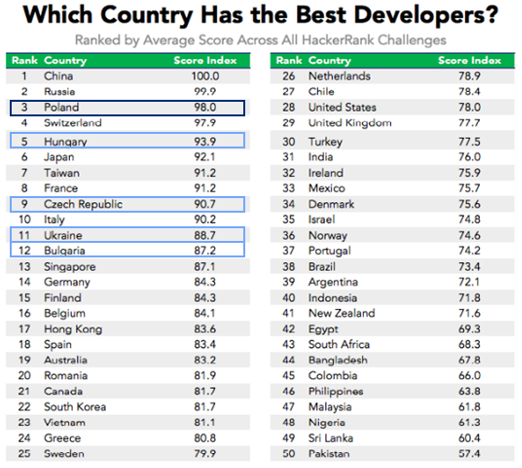 Source: HackerRank
High capital efficiency makes the region's startups even more appealing for international investors. Lower costs of living combined with a frugal and resourceful attitude embedded in Eastern European culture ("thanks'' to the Communist legacy of the region) mean that our region's founders achieve more with less. Every euro invested into CEE startups yields higher investor returns, compared to the Western European countries (and versus the US-based counterparts the metric is 11x better!)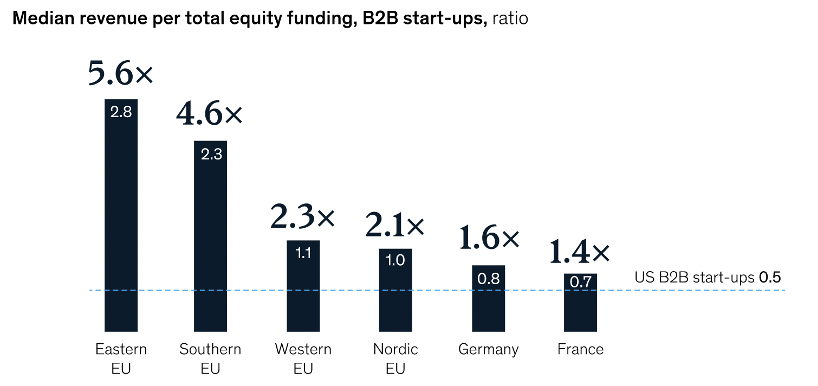 Source: McKinsey & Company
Until now, the vast majority of attention has been given to quantitative features of the Polish ecosystem and its unprecedented rise. Most of the reports and articles covered record funding amounts in recent years, as well as increasing numbers of startups, VCs, angel investors and other players active on the market. Moreover, analysis usually focused on an aggregate perspective and general properties of the economy, providing a "helicopter view" of the ecosystem, with little attention given to more specific individual case studies.
To illustrate this, I have focused on 10 of the most successful Polish startups who have raised $384M in aggregate. Understanding the drivers behind their success helps us to identify the strengths of the Polish ecosystem, but also to guide founders and investors alike in their journey of building internationally successful tech businesses.
To capture uniquely Polish (or regional) characteristics, I've excluded companies established by Polish founders abroad (e.g. Uncapped or ICEYE). Their impressive stories may have been influenced in part by more mature ecosystems where they started their growth journeys.
Over the course of my research, 3 interesting characteristics have been identified, which are common features of successful Polish startup companies:

1. Active support of strong international seed-stage investors
Coming out of Poland, where technical and product talent is abundant, a set of international investors is instrumental in building international sales & marketing teams, as well as attracting investors in later funding rounds. Additionally, high-quality seed investors are often supportive in the process of acquiring first customers and local partners, or even attracting media attention in newly entered geographies.
Looking at the examples below, it's quite apparent that a diverse, international set of seed-stage investors have helped many of the successful companies scale and raise large subsequent rounds.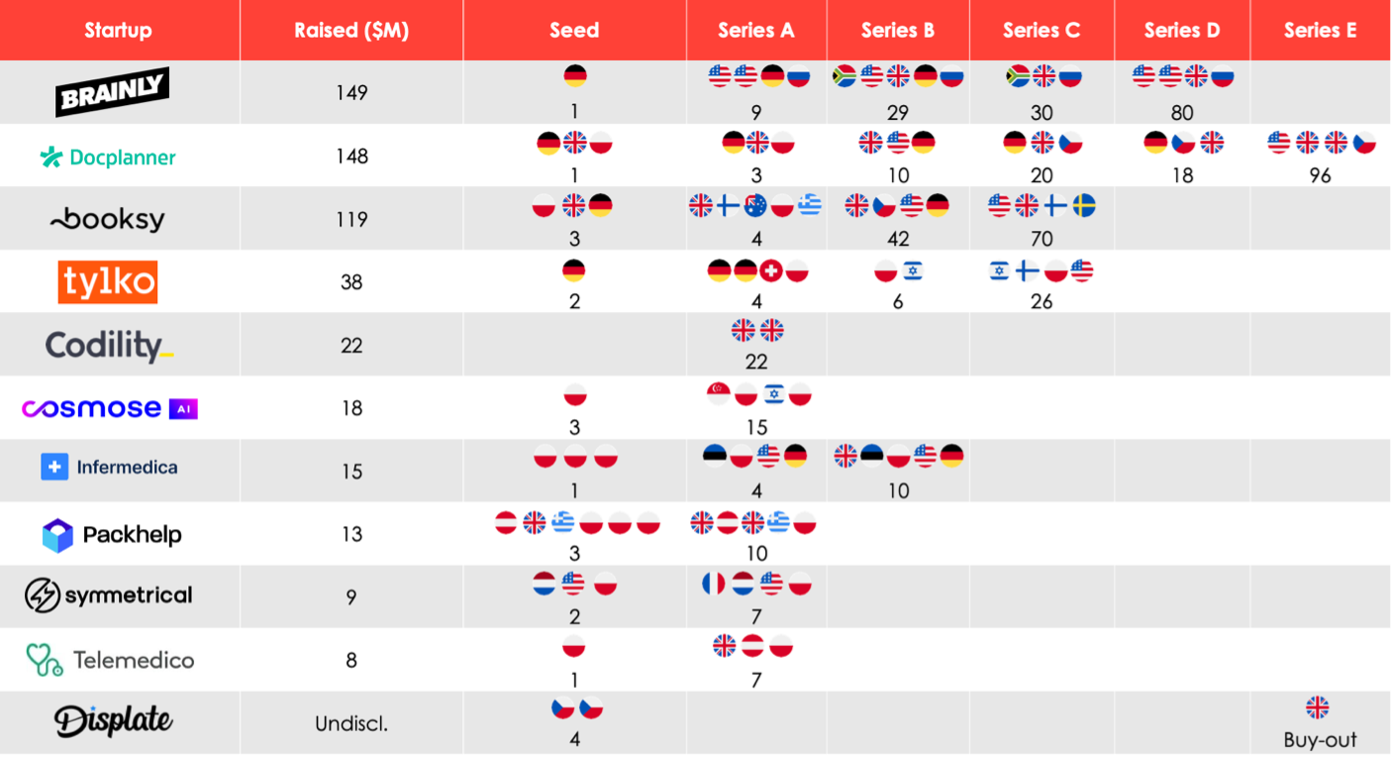 2. International expansion into markets relevant from the business model's perspective
Global VC funding for H1'2020 has reached $139B. Out of that figure, as much as 71% has been concentrated between just 3 markets – the US ($62.3B), India ($19.4B) and China ($17.2B). When adding 3 largest European markets (the UK, France and Germany) and $11.2B in total funding, the share of just 6 countries reaches 80% (Source: Crunchbase). 4 out of 5 VC investment dollars (or euros) go to a small set of geographies, leaving a large part of the global economy much less competitive, as measured by funding deployed as a proxy.
Strong local market understanding and network is essential for a successful market entry. VCs can be very supportive here as well. What's also notable are the various approaches for successful international expansion, which have been largely dependent on the business models of respective Polish startups:
For marketplaces, which largely require significant marketing spending to build presence in the new markets (and set the network effects in motion), peripheral geographies of Latin America, Southeast Asia and Eastern Europe have proven better expansion destinations, given much lower levels of competition than the most VC funded geographies
In case of SaaS startups, most meaningful target markets were mainly largest economies globally, given that the direct sales process in most cases can be done fully remotely and customer locations usually correlate with largest economies (and the most generously venture funded geographies)
While looking at direct-to-consumer brands, there's no clear pattern visible, as the model is largely agnostic to geographical boundaries. In some cases, companies scale across Europe, given the unit economics and shipping costs (Tylko, Packhelp), in other cases they are able to expand at scale globally (Displate)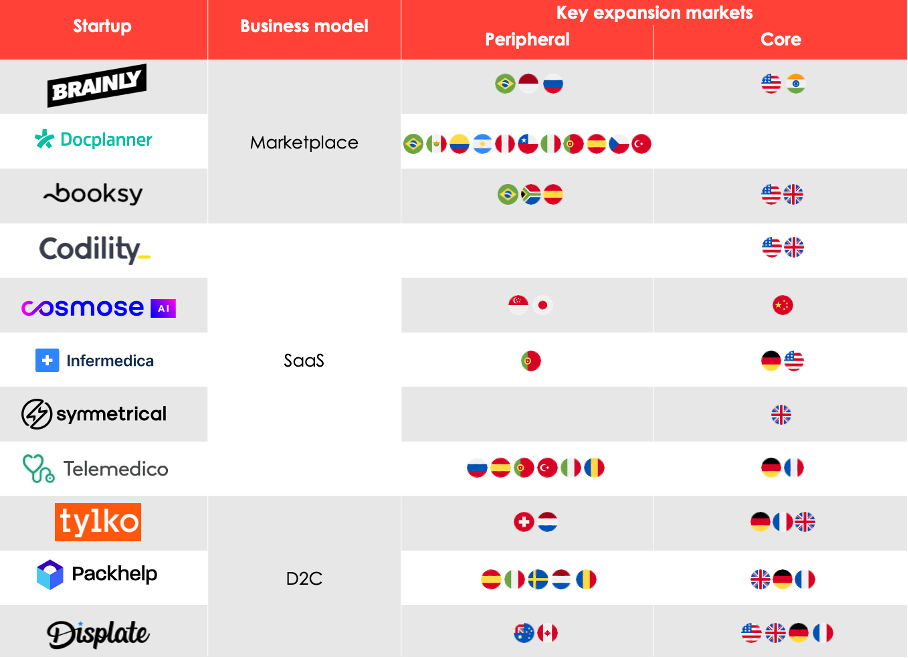 3. Doubling down on attracting and inspiring top talent
This is probably the driver which is hardest to quantify. Admittedly, at the seed stage, a startup's progress is mainly driven by the founders: their experience, professional networks, domain expertise, capabilities and drive to succeed. From Series A onwards, exceptional founders are not enough. It's essential to hire and inspire top talent in order to take the organization to the next level. Even the brightest and most hardworking founders are not able to build a billion-dollar company without a scalable way to attract and, most importantly, retain top-quality talent in their organizations.
Poland and Central Eastern Europe is famed for its stellar technical talent. Even so, a diverse set of investors can be instrumental for hiring commercial (sales, customer success, marketing) and operational talent (finance, HR) in new markets. Especially in the current remote-first startup environment, access to a broad and non-overlapping network of talent that VCs can provide is a major competitive advantage.
Great examples of such processes being set in motion are Inovo's involvement in Booksy and their support in bringing on board top notch talent in the early days of the company. This has been shared in this excellent article by Michał Rokosz, a Partner at Inovo, who was also operationally involved as COO of the company. DocPlanner's strong focus on HR and building a sustainable and well-structured organization is another example, more in this amazing video by Lucjan Samulowski, one of the cofounders, responsible for people-related operations (the company has also received significant strategic support from its angel investors, who later went on to create Market One Capital).

---
At VentureFriends we're confident that Poland and other Central European ecosystems are at a pivotal moment of growth and there will be many more startups following in the footsteps of the great companies discussed above. If you are a part of an exciting Seed or Series A startup with an ambition to become a unicorn, feel free to drop me a line, and let's chat!